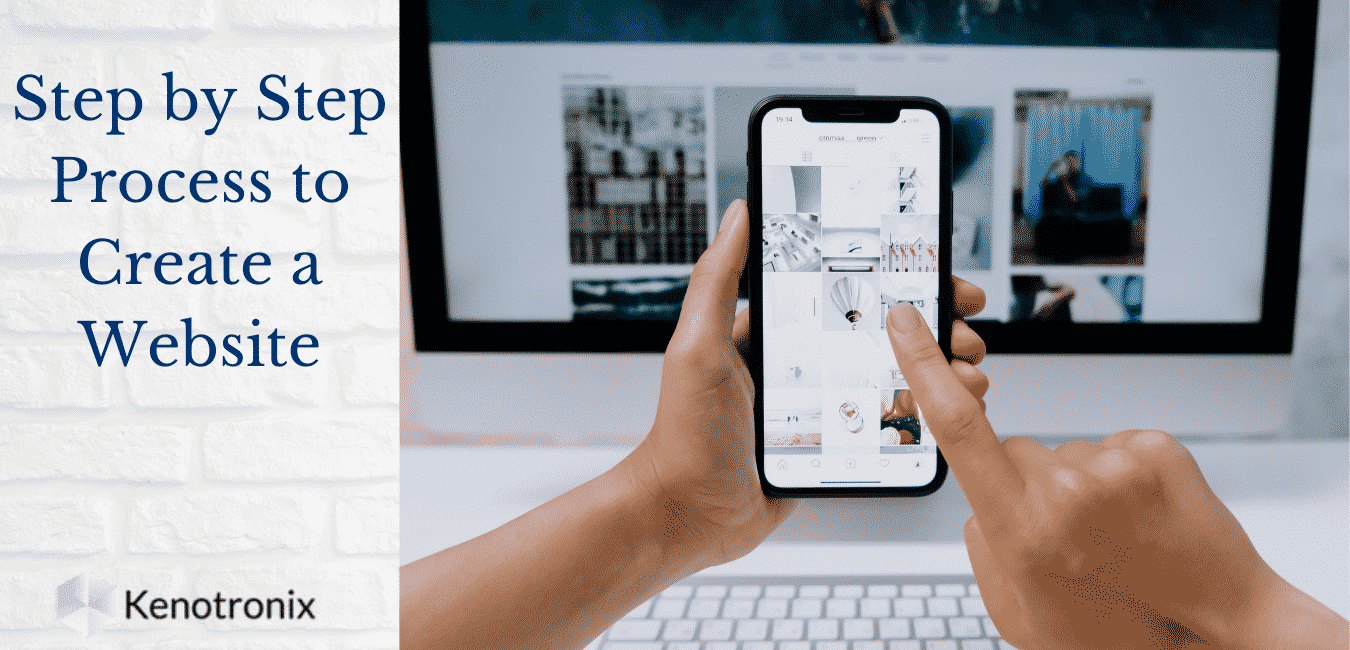 There is no doubt about the benefits of having a website for your business. A website helps in creating an online presence that can cater to a broad audience. It allows people to get to know your brand. So, you have to put efforts into creating a website with the right tools and strategy.
Building a website does not include a single task. It includes various steps to have a website ready at your end. 
There are various options that you can use to create a website online. The below article will explain to you those steps in creating a website.
Registering the Domain name

Choosing the right hosting company

Preparing the web-content

Building your website
Step 1- Registering the Domain name.
A domain name is basically your website's address that the customers will access through their browser. Your website will be known by your domain name, so it should reflect your brand and product. Having a unique and innovative domain name will stand you from your competitors within the market. 
It can be challenging to deduce the domain name, as it is the first and essential step towards website creation. A domain name will be used everywhere, whenever your business name pops up. You can take help from professionals in getting your business domain name. Also, there are various online sites where you can check the domain name and register it. 
Registering a domain name will cost you but not much. Once you are done with registering your domain name, you need to look for a web hosting provider that can help you host your website using the domain name.
A domain name consists of two parts, where the first part is your domain name, and the last part is the domain extension. For example, "Google.com," where Google is the domain name reflecting the brand, and .com is the domain extension, demonstrates the type of organization.
Step 2- Choosing the right hosting company.
Web hosting provides a space for your website on the internet where you can store all your website-related content. This content will be available for all the users accessing the website. A web host provider offers you various services, resources, and benefits to handle and manage your website throughout the chosen plan. You must select the right provider among a pool of providers with the plan suitable for your business and falls into your budget. 
There are multiple providers; some allow you to register your domain name with them without costing you. A hosting provider helps you handle all your technical issues with a professional team, available 24X7. Some of the web hosting options are-
It uses servers to store your website with a physical location, local computer, or cloud. A hosting provider makes sure that your server will be up and running to make your website accessible every time, without any downtime. It enhances your website performance by providing enough resources to run your website. You can choose the hosting plan accordingly that can easily accommodate your changing business needs. 
You can take your time in choosing the right hosting company and plan, as it is the factor that decides your budget and, most importantly, the quality of your website.
Step 3- Preparing the web content.
Once you register the domain and get ready to host your website with the right hosting provider, now is the time to work on the content of your website.
This is the work of professionals to decide what content should go on the website as content is the only thing that will bind your customer to your brand. You can find various content management systems online to create the content for your website. One of the most popular and commonly used CMS (Content Management System) is WordPress. It offers you multiple features to edit and add content dynamically.
Customers require the latest information on a regular basis. It is better to keep your website dynamic and ready for instant changes. A good CMS helps in formatting the content to look more engaging. 
Step 4- Building your website.
Once you have done all the above steps correctly, you are on the right track. If you are a startup, creating your website might be challenging without any professional help. It is better to seek help for such a challenging task. 
You have to host your website to create an online presence and make your domain name public to be accessed via a browser. 
Essential tips while creating a website.
First, understand the purpose of your website and what type of audience you want to target.

You need to understand what your customers are expecting from your website.

To keep your customer engaged, update your website with the latest and useful information.

Find a way to interact with your customers and respond to their feedback quickly.

Make effective promotions of your website to make it as accessible to more people as you can.