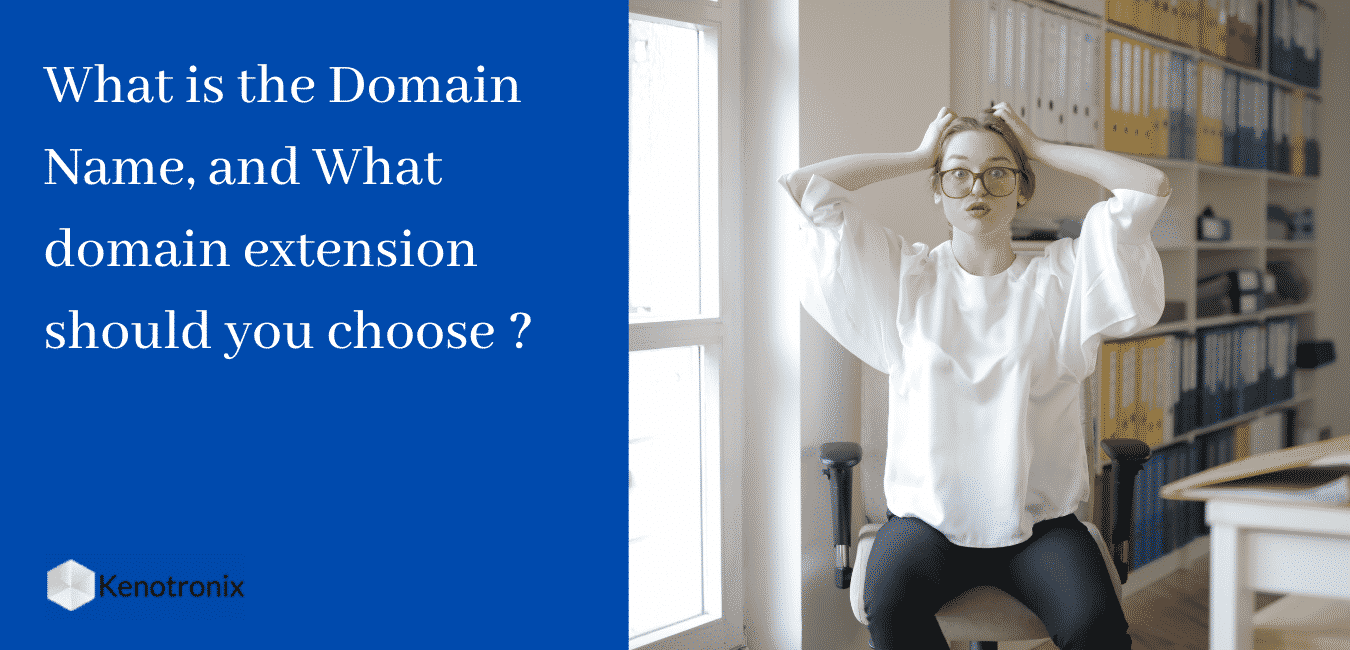 What is the Domain name, and what domain extension should I use?
Today, every business is making its online presence with an innovative website. But the question is how you can host a website online that will be accessible to users. It would be best if you had a way to host the website on the internet. For hosting your website, you need a unique domain name for each website and reflects your business identity in the market.
You will get various online platforms allowing you to create a domain name. 
The below article will explain the domain name, domain hosting, top-level domains, and which domain extension to use.
Before entering the domain extension part, we will understand the domain name and why it is useful for hosting your website. 
A domain name defines the address or the link for your website. Users use this address to search your website on the internet via browsers. This name has to be unique for every website to avoid confusion. 
A domain name consists of two parts that are separated by a dot. The first part reflects the name for your website and the second part demonstrates the domain extension. You need to make sure you choose the right, meaningful, and unique domain name. You can take the help of various online platforms to create and register your domain name.
You will have different domain categories- top-level, generic-level, and second-level. 
What is a Domain Extension?
The domain extension is the last part present in the domain name. For example, "Google.com," here ".com" is the domain name extension. You can also call the domain name the top-level domains. Both domain name and domain name extension together provide a complete address for your website.
Types of Domain Extension
Below are the different types of the Domain name extension-
Generic Domain Extensions- 

with the introduction of generic top-level extensions, you can use extensions like .beer, .blog, etc.

Sponsored Domain Extension-

 the use of such extensions are restricted to specific groups or organizations. You need to satisfy certain requirements to use these TLDs. some examples like- .aero, .gov, .edu, etc.

Generic-Restricted Domain Extension-

 they are like generic domain extensions. The only difference is they are used for certain groups with some restrictions. For example- .name, .pro, etc.

Country Code Domain Extension-

 each country has its specific TLDs (Top Level Domain) specifying the particular country. But you can use these extensions for other purposes also. For example- .co is for Columbia but also used by companies.
Common Domain Name Extensions
Below is the list of commonly used Domain name extensions for your website-
.com –

 It is the most popular and widely used TLD. Initially introduced for commercial enterprises, but the use is not limited there and can be used for any purpose. 

.net –

 It is shorthand for the word network and was initially introduced for companies related to networking and internet infrastructure. Today there is no limit to its usage, and it is mostly considered the best after .com. 

.org –

introduced to be used by nonprofits enterprises or companies. Today, there is no usage restriction and is a common TLD for education-based websites, schools, and more. 

.co –

it is a new extension and is very popular in the startup space. They are mostly used to represent the company.
Restricted vs Unrestricted Domain Extension
There may be a chance that a specific domain name extension is available while purchasing. But you may not use it due to some restrictions to that domain name extension. Such extensions are to particular companies, institutes, etc. If you are considering using the .edu extension, then you have to be an educational organization. The .mil extension is reserved for military-related websites. 
But there is nothing to worry about; there are some unrestricted extensions that are open to all. For example- .com, .org, and .net. Such extensions are known as unrestricted domain name extensions that can be used for any purpose.
How to find the right Domain Name Extension?
It may be confusing to choose the right extension name among thousands of extensions. But choosing the right one will reflect the type of company you are. Domain name extension has a persuasive impact on your visitors. If not done right, it may impact your brand identity. Below are some tips that you can consider or keep in mind while choosing your website's domain name extension.
First, go for the unrestricted domain extensions. If they are not available, then try others.

Choose a unique extension name that blends well with your domain name. For example- instead of using tools.com, use tools.info.

You can use online tools to ensure that your domain name and extension do not match other websites.

You can go for novelty domain name extensions only if they are suitable for your domain name.