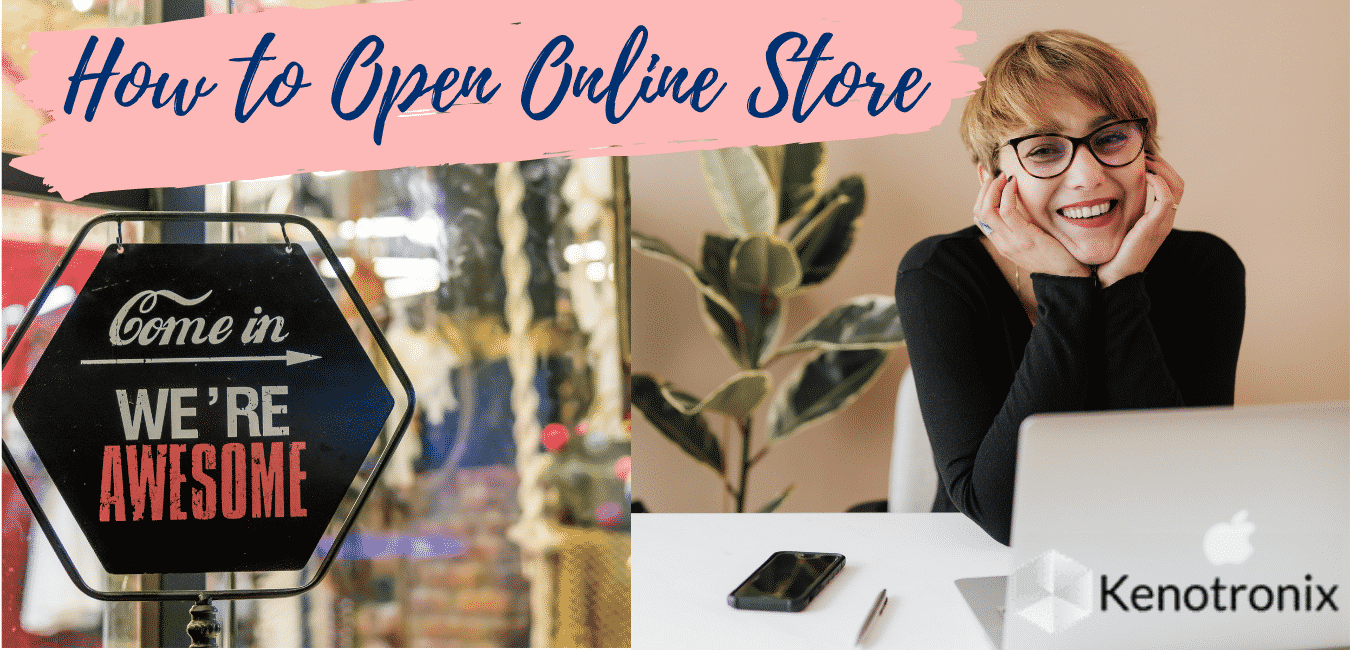 How to Start an Online Store?
If you are thinking of starting your online store, you will require professional help on a small or large scale. It may or may not be a challenging task, depending on how you strategize your steps towards success. 
Due to various tools and technology, creating an online shopping platform becomes seamless. But, you have to focus on some steps before you set up your web store. 
You can go through the below mentioned steps for building your online store.
Decide your niche and what you want to sell.

Make your business plan.

Register the Domain name.

Choose the right web hosting platform.

Design your website.

Select the E-commerce software.

Promote your website.
Step 1- Decide your niche and what you want to sell.
Starting an online store begins with an idea of what you are going to sell and how. You have to look for the products your competitors are selling. It would be best if you keep in mind a few things while selling online, and else it will be challenging for you to connect with customers. You can consider the below-mentioned points.
Does your online product need to be shipped?

Do you want an inventory for your product, and how are you going to manage that?

Does your store sell all products or specific ones?

Are you manufacturing your products or via a manufacturing company?

What purchasing option are you going to include?

Is your product better than your competitor?

What are the laws and regulations?
Step 2- Make your business plan.
Having a business plan is essential, so you can match your progress as expected. It requires detailed research on everything from deciding products to the payment option. There is nothing wrong with having a plan in hand. 
There may be chances that you may or may not proceed as per the plan, but it will give you guidance to move forward. You can look into the below-mentioned factors while creating a business plan.
First, decide the incurring cost that includes product cost, shipping cost, website hosting cost, and many others.

Decide how you are going to host your website, through which web host provider.

What hosting plan will you choose as per your business requirement?

How much will you pay for the domain name and its registration?
Step 3- Register the domain name.
Once you create a business plan, choose a unique name for your website. Your website will be recognized by the domain name, reflecting your brand. If you have a strong and innovative name, it will attract users to your store and make it the most accessible site.
The first step is to attract customers, and once they visit your site, it will increase the chances that it will come on the top of Google SEO. So decide the name first, you can take professional help for better options. After determining the name, register the domain with any online platform and create an URL to access your online store.
Step 4- Choose the right web hosting plan.
You can find multiple web hosting options like- shared, VPS, dedicated, and Cloud hosting. You can choose any of them, depending on your business requirement.
If you are going for a large scale website, you will require more resources to handle your store. You can choose dedicated or cloud hosting in that case. They will provide you with dedicated resources and other benefits for running your store efficiently. They will enhance your performance, loading times, uptime, bandwidth and handle thousands of incoming requests simultaneously.
If you are a startup or do not know which plan will work for you, you can try shared or VPS hosting plans that fit small-scale store budgets. You will have limited resources, but for trial, it will be a good option.
Step 5- Design your website.
Now, you can start designing your website by a free website builder. You can use any CMS tool to start designing. One of the commonly used CMS tools is WordPress, which offers you various tools and plugins. You can create an interactive website for your products. You can list all your products to sell and advertise them around. 
A useful CMS tool helps in editing and creating dynamic content for engaging your customers. Try not to keep your website too flashy. Keep it simple and readable.
Step 6- Select the E-commerce software.
If there is no purchasing option, then there is no purpose for your website. To make more customers, make sure you include all possible ways of shopping. This ensures that your customer will buy something from your store. For this, you require E-commerce hosting and software that can blend well with your website. It allows you to send notifications to your customers, enhancing the customer experience.
Step 7- Promote your website.
This is the final step that is as equally important as the above steps. If you do not promote your store, you will not be able to reach the maximum public on google or other online platforms. It may impact your ROI. It is essential that you spend at least 10% of your budgets on promoting your store and the products you are offering.
Once your store gets to the public notice, you will succeed and will make a profit.