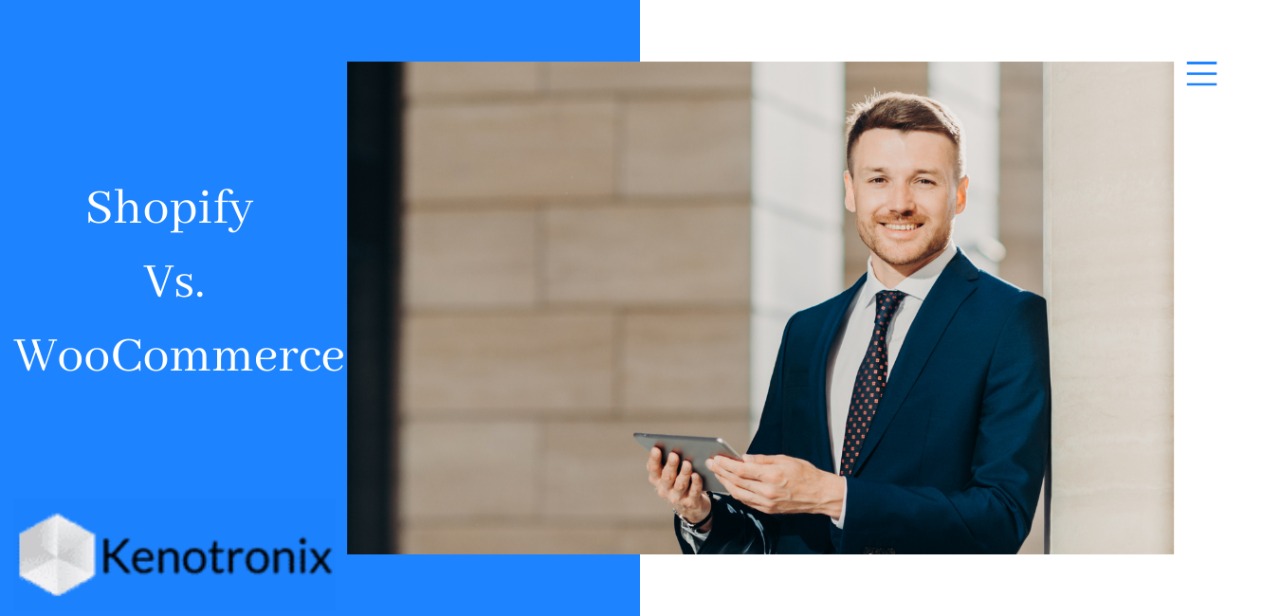 Today, having an online presence is essential for every small and large business. There are different ways for your business to have an online presence and build a great ecommerce site. But the question arises, which platform to choose. We have analyzed for you the most popular and commonly used platforms- Shopify and WooCommerce. 
It is essential that you choose the right platform suitable for your business needs. Both the platforms have their benefits and characteristics that you may find well for different aspects. In this article, we will discuss both the platforms and their usage in different ways.
In the end, there will be no doubt for you to select the platform accordingly.
Overview – Shopify and WooCommerce
Before moving to the difference between the two platforms, we should know about them. 
You can consider Shopify as an all-in-one eCommerce platform that helps in creating an online store with a payments system, managing your inventory from a single platform. There is no need to get into the technical aspects for managing the website like web hosting, security, caching, etc. All these will be taken care of automatically with its various in-built features. Below are some pros and cons of Shopify.
With Shopify, you will be aware of how much you are paying for the features monthly.

You can easily extend your online store with its thousands of applications.

You will get numerous themes for various ideas.

It will handle everything from hosting your website to manage security.

You can quickly launch your website without extra effort.

You can quickly implement drop shipping features with Shopify.
With Shopify, you won't be able to control your website completely.

It does not allow you to customize your website.

You have to pay monthly, which tends to increase.

Shipping solutions offered by Shopify are less flexible

You don't have any control on monthly fees or functionalities added or removed
Unlike Shopify, you are allowed to customize your website and have complete control over it.

You will get huge community support due to WordPress.

You will get unlimited themes and plugins.

You can easily configure the WooCommerce on WordPress.

WooCommerce plugin comes for free.
WordPress has some challenging learning curves.

WooCommerce can be costly  at the beginning due to its plugins, themes, and hosting features.

With WooCommerce, you have to manage everything hosting, security, and handling backups.  BUt Kenotronix is their to help you up!
Things to consider in an eCommerce platform
Some of the things you must consider while choosing the right eCommerce platform. Some factors can influence your choice, and we have mentioned some of the features.
Budget

– you must consider the budget of your business and the expected cost that you may incur after implementing all the features to your website.

Ease of use

– your eCommerce platform comes with the ease of maintaining and creating the website efficiently so that there will be no requirement for extra efforts and payment.

Payment Methods

– at this time, you will have various payment options. Your eCommerce platform must offer you all possible payment options so you will not miss any customer due to the payment problem.

Integrations

– your eCommerce platform should offer you various services, tools, and plugins so you can quickly expand your business by integrating them into your website.

Scalability

– the chosen platform should be able to scale accordingly to your growing business and can handle the resources being used by your website.
Difference between Shopify and WooCommerce
Now we will look into the differences of both the platforms and consider which one is better for your online website. We can differentiate both of them from various aspects.
1. Ease of launching your website on each platform.
If you are considering WooCommerce, then you have to look into installing WordPress and learning the interface. Once you set up WordPress, then you have to install WooCommerce and learn its interface. Not only this, before you start accepting payments, you have to find a hosting provider for your website, install WordPress, find a WooCommerce theme, and set up the payment gateways. However, nothing of the task is daunting as WordPress comes with huge community support but has a considerate learning curve.
But, if you consider Shopify, then there is nothing much before you start making payments. All you need is the Shopify account, domain, and theme to start working. Shopify provides its payment gateway that allows you to start accepting payments from the day one. 
Shopify is much better to use.
2. Controlling your website
However, Shopify offers a more flexible solution that still does not allow you to control your website compared to WooCommerce.
If you are using WooCommerce, then you can customize your website's functionality. It offers you themes, 50k plus plugins, custom mode to make the edits. You can feel WooCommerce's flexibility when it comes to adding things like product variations. With WooCommerce, there is no limit on the number of products you can use. But Shopify allows you to include 100 variations per product along with three options for each product.
Like WooCommerce, Shopify also offers themes and various applications that help in modifying the website. You can also add HTML to your homepage only, restricting you to make changes to other website pages. 
However, both the platforms offer you a wide range of payment gateways, but you still spot a significantly less difference. You will notice that Shopify will charge you an extra amount if you use an external payment gateway option. 
WooCommerce offers you a variety of plugins, an open-source, and a broad community. Also, it provides you a wide range of payment gateways like Stripe, PayPal, Square, Authorize.Net. not only this, and you will get the options for niche payments like Postgiro, Przelewy24. WooCommerce allows you to use the top as well as the regional gateways for payment.
With Shopify, you will get its payment gateway that does not require any configuration. It supports some third-party payment gateways like PayPal, Stripe, and Authorize.Net. 
4. Controlling data using each platform
As WooCommerce is a self-hosted platform, you do not have to worry about controlling and managing your data on the website, which may not be possible using Shopify.
WooCommerce allows you to have complete ownership of your data on the website. It will enable you to dig into your database and access the information whatever you want and make changes accordingly.
With Shopify, you can access all of your data, but the live copy of the data is located on Shopify's server, restraining you from having complete control of your data. It allows you to export CSV, creating the backup using an application, and you can connect to your data via APIs.
5. Cost of each platform.
However, both the platforms come in various flavors, so it is difficult to decide which is better using cost as a factor.
With WooCommerce, you cannot have an exact cost due to many scenarios and cases. But you can have a fixed fee for hosting, domain, and payment gateway. But, you might end up paying for various things like premium themes and plugins. 
With Shopify, you will get a transparent pricing plan. But various features can increase the cost of your website, like- premium themes and applications for which you have to pay monthly, which is not the case for WooCommerce.
Both Shopify and WooCommerce are great platforms to get your ecommerce store up and running. – although each has its own set of pros and cons. If you are ready to pay extra money to remain completely off the technicalities, then Shopify can be good for you. However, if you want to manage your store without any extra help and also save some extra money then WooCommerce is made for you.
We hope this blog helped you compare the pros and cons of Shopify vs WooCommerce. You may also want to see our guide on how to start an online store.
If you liked this blog, then please subscribe to our newsletter for weekly updates related to your online business. You can also find us on Twitter and Facebook.
Also mention the platform that you would like to use in comments below. So, we can come up with more information on it.